Office of the Dean
Dean of The College of Arts, Sciences, Business and Education
Manju Bhat, M.V.Sc., Ph.D.
130 Carolina Hall
336.750.2400
bhatmb@wssu.edu 
Suresh Gopalan
Interim Associate Dean of STEM, Research, & Academic Initiatives
130 Carolina Hall
336.750.2344
gopalans@wssu.edu
LaVie T. Leasure
Associate Dean of Arts, Humanities and Social Sciences
130 Carolina Hall
336.750.2479
leasurela@wssu.edu
(Ph.D., Indiana University of Pennsylvania) She is also Associate Professor in the Department of English at Winston-Salem State University (WSSU). A native of Sedalia, North Carolina, Dr. Leasure earned her undergraduate degree (Bachelor of Arts and Sciences) from Bennett College and her M.A. degree in English and African-American Literature from North Carolina A & T State University. Dr. Leasure has worked in the public school, higher education, non-profit, and corporate sectors.  Formerly, Dr. Leasure served as the Dean of First, Second and Transfer Year Experiences and Engagement and as the Inaugural Chair of Liberal Studies at WSSU.   She is an Adobe Creative Campus Faculty Fellow, an Association of College and University Educators (ACUE) Credentialed Educator, and a member of Leadership North Carolina (Class 30).  Dr. Leasure is active in her community and on the WSSU campus.  She is a motivational speaker and a youth advocate.  She is dedicated to the improvement of the undergraduate learning and teaching experiences students and faculty encounter.  Her current research focus is on the relationships between women, intersectionality of race, gender, sex, and culture, and SOTL in the Humanities.
Cynthia Williams Brown
Interim Associate Dean of Education
Quality Assurance & Community Engagement
Associate Professor of Physical Education
147B Anderson Conference Center
336.750.2587
williamsc@wssu.edu
(Ph.D., University of South Carolina) A native of Moncks Corner, SC, Dr. Brown earned her undergraduate degree from Shaw University and her M. S. degree from North Carolina Central University. Dr. Brown has more than 20 years of higher education experience and leadership. Prior to her role as Interim Associate Dean, she served as Chair of the Department of Health, Physical Education & Sport Studies at Winston-Salem State University (WSSU) and Program Coordinator of the Physical Education Program. She is currently WSSU's NCAA Faculty Athletics Representative and is active in several other professional organizations. She is a long-standing member of the North Carolina Alliance for Athletics, Health, Physical Education, Recreation and Dance; serves on the Faculty Athletics Representative Association (FARA) Executive Committee; and is a member of the HBCU Advisory Committee for the Society for Public Health Education.  Dr. Brown is active in her community and her church and serves in a leadership capacity on two non-profit organization board of directors. Her current research focuses on the reduction of chronic disease risk factors in African Americans. She also designs and conducts physical activity interventions for children, youth, and adults. Dr. Brown, a former high school physical education teacher and coach, became a member of the faculty at WSSU in 1998.
The College of Arts, Sciences, Business and Education Dean's Fellows Program is designed to enhance academic leadership development for current and future academic leaders at Winston-Salem State University. Dean's Fellows maintain their current professional commitments during the academic year while taking advantage of opportunities to learn and gain broad exposure to academic administration.

The Dean's Fellows Program is designed for tenured faculty members, including department chairs and academic directors, who are interested in learning more about academic administration and interested in advancing the academic mission of the College and university. Dean's Fellows work closely with the Dean of the College in creating a custom yearlong leadership experience designed to address areas of professional development while advancing novel solutions to strategic issues facing the College and university community.
The College Chairs and Directors Council
The College Chairs and Directors Council is composed of the chairs of the academic departments and directors of the research and teaching centers and initiatives in the College who work in collaboration with the Dean and senior academic leaders of the University in developing, planning, and executing the curricular and co-curricular programs and initiatives of the College.
The College Advisory Council
The College Advisory Council is composed of alumni, civic leaders, scholars, and friends of the College who volunteer to provide strategic advice and support to advance the College's mission and vision.
Faculty of Business Advisory Council
The Faculty of Business Advisory Council is comprised of leaders from across the public and private sectors who meet quarterly with The College Leadership Team, chairs and directors of the Faculty of Business to provide strategic advice, ideas and guidance in advancing the business academic programs and initiatives.
Greg L. Anderson, Market President
BB&T
Tom Baldwin, Senior Vice President
Multicultural Markets
BB&T
G. Dwayne Chambers, Chief Marketing Officer
Krispy Kreme
Fran Crump, Market Human Resources Manager
Walmart
L. Duane Davis, CFP, Senior Investment Advisor
First Tennessee Bank
Kelvin Farmer, Manager
Jackson Hewitt
Tommy Hickman, Sr. Vice President of Operations
R. J. Reynolds Tobacco Company
Pamela Jennings, Director
Center for Design Innovation
Tony W. Johnson, Corporate Senior Vice President
Novant Health
Donna M. Jones, Agent
State Farm Insurance
Chris May, Business Systems Consultant Leader
Wells Fargo
David S. Miner, Executive Vice President and Managing Partner
Meridian Realty Services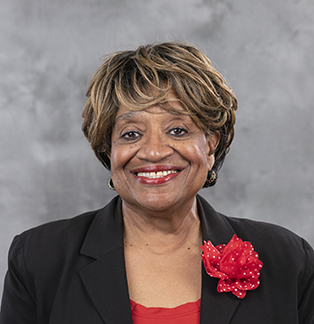 Annetta Payne
Executive Assistant to the Dean and Budget Manager
130 Carolina Hall
336-750-2403
paynea@wssu.edu
Sharifa Martin
Administrative Support Associate
130 Carolina Hall
336-750-2400
romneyst@wssu.edu